14-Days' Menus
Day Fourteen
Breakfast
Fry kipper fillet (smoked herring) in lard for 5-7 minutes. Mix 2 eggs with 1 tbsp cream, and salt and pepper to taste. Heat some butter in a saucepan. In it cook the egg mixture, stirring, until it is just set. This should be done while the kipper is cooking. Serve together immediately.
Lunch
Toasted buttered sandwich packed with 100g (3½ oz) tuna, salad greens and mayonnaise.
Dinner
190g Tesco pork fillet Dijonnaise served with two or three vegetables of your choice, or a salad.
Dessert
Onken Peach mousse
Featured Books
NEW BOOK
Trick and Treat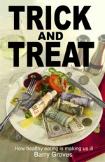 A great book that shatters so many of the nutritional fantasies and fads of the last twenty years. Read it and prolong your life.
Clarissa Dickson Wright
---
"NH&WL may be the best non-technical book on diet ever written"
Joel Kauffman, PhD, Professor Emeritus, University of the Sciences, Philadelphia, PA
---