Diabetes Diet Recipes
Puddings and Sweet Courses
Strawberries and cream
(And how to sweeten strawberries without sugar or any other sweetener)

Fresh strawberries and cream are delicious, and strawberries are low in carbohydrate. However, normally they are sugared, which increases the carbohydrate content considerably.

If you think that you have to add sugar, try this:

To sweeten without sugar
After washing the fruit, place for about 30 minutes in a pint of water, in which a teaspoon of salt has been mixed, then drain and serve. You will be surprised how much sweeter they taste.

The same can be done with raspberries, melon and apple.
Featured Books
NEW BOOK
Trick and Treat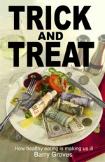 A great book that shatters so many of the nutritional fantasies and fads of the last twenty years. Read it and prolong your life.
Clarissa Dickson Wright
---
"NH&WL may be the best non-technical book on diet ever written"
Joel Kauffman, PhD, Professor Emeritus, University of the Sciences, Philadelphia, PA
---